Fanime
Heya guys so next on my con run its Fanime! This has to be my favorite con of the year. I'm pretty excited about it, a lot of my friends are going which is awesome. I will have 2 tables and next too a couple of friends.
Ill make sure to get a lot of prints this time so I don't run out like last year and a wonder con 8D So come by and say hi if you can.
Also Sorry about not getting some new stuff up, I just finished moving to a new place and Im now back online

Anyway I hope to met more of you awesome peoples at some of the up coming cons!
2010 CONS!
Who is excited!?! I sure am

this year I will be at.
Fanime May 28 - May 31 in San Jose at the San Jose Convention Center
Anime eXpo July 1 - 4 in LA at the LA Convention Center
Maybe Comic Con July 21 - 25 in SAN DIEGO at San Diego Convention Center
Sac Anime Sept 3-5 in Sacramento at Radisson Hotel
Long beach Comic Con Oct 29-31 in LA at Long Beach Convention Center
and some smaller convention around the area lol
Awesome Fan Arts
Kenjie running with a wolf by Sway West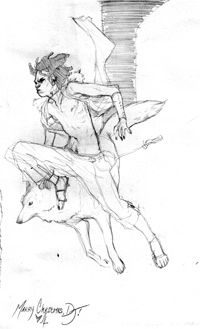 A funny drawing from my good friend Matt, of my homiga Chama and me larger view [link]
Mel made this from and and it was well timed, cuz yesterday sucked, larger view [link]